Roof and Ceiling Leak Detection
See What's Really Going On!

An infrared inspection of your roof can detect evidence of latent moisture within your roof cavities and it can determine the potential for ice dams, plugged drains, and water retention that may cause roof damage and/or leakage which could lead to serious damage to your living area if not detected on-time. Roofing materials are very expensive to replace and the repairs can cost you roughly $20.00 or more a square foot. My infrared roof evaluation you can save you a bundle (in the long run) by knowing if certain roof sections need minor repair now to avoid major repair or replacement later, or to simply determine if the whole entire roof needs to be replaced in the not-so-distant future. Thermal imaging can give you the existing roof information in a nice neat visual package.

This EPDM roof looks great visually, but a major moisture build-up (under the rubber membrane) was easily detected utilizing my infrared camera.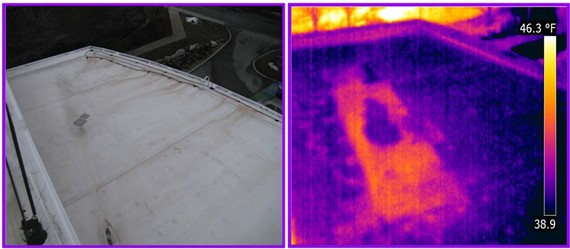 During a home inspection, roof leaks are typically discovered by my direct observations and then confirmed by utilizing moisture meters on the sheathing below. But if I detect a moist area and the roof sheathing is not visible from below (such as a finished cathedral ceiling or a ceiling below a living area) the exact area of the leak can not be determined. Most homeowners have the misconception that moisture stains are caused from leaks that are directly above a wet area. It's just not true in most situations. On gable roofs, some leaks occur at the ridge line area and cling to the rafters for quite a distance until it finally drips onto the ceiling below. In order for anyone to locate the exact area of the leak, the damaged ceiling must first be removed. This removal is necessary in order to "visualize" the exact intrusion point at the underside of the roof sheathing. Now before any of the ceilings can be removed, all the furniture must be removed from below the affected area. Then the floor must be protected from the falling debris and possibly requiring a scaffold system. All of this can cost hundreds and even thousands of dollars! Infrared Thermography is an invaluable non-destructive and non-contact tool that can detect and pinpoint hidden roof leaks without even damaging the interior or exterior surfaces. Then once I pinpoint the problem area, minimum surface areas can be removed in order to make the necessary repairs.
I prefer to perform all exterior flat roof inspections in the early evening hours. In order to perform the infrared inspection correctly, I require solar heating of a hot sunny day to heat up the roof surface. Then in the early evening (after the sun goes down), the roof starts to cool allowing my infrared camera to be able to detect obvious thermal differences (anomalies) if there are any moisture intrusions within the roof surface. Thermal properties of water are very unique (high thermal capacity), allowing water to be thermally observed on the surface and on the underside of roofing materials. If water is actively seeping into the cavity of a roof surface, the dry roof insulation will cool much faster than the soggy wet roof insulation, making it possible for me to observe the thermal differences.
My infrared roof inspections have proven to be a beneficial option for testing sub-surface roof areas that can not be seen visually. Regularly scheduled infrared roof inspections will allow you to find moisture damage and water leaks that have not yet become apparent. This is the most cost-effective approach to any roof maintenance. I have the knowledge and experience to correctly acquire and interpret roof infrared inspection data to you and then provide you with a professional easy-to-understand infrared roof report within hours of your inspection.

Visually, this roof structure looks good, but infrared imaging detects anomalies immediately.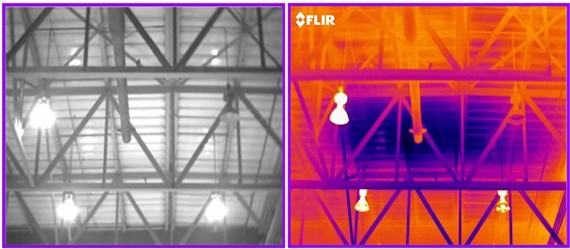 The source of this roof leak was unable to be located visually, but my infrared camera detected the exact source of the leak immediately.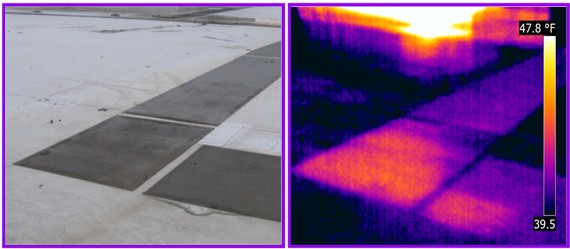 Don't wait until it's too late. Infrared imaging will detect concealed issues.