Radiant Heat Pipe Detection
See What's Really Going On!
COMMERCIAL RADIANT FLOOR HEATING SYSTEM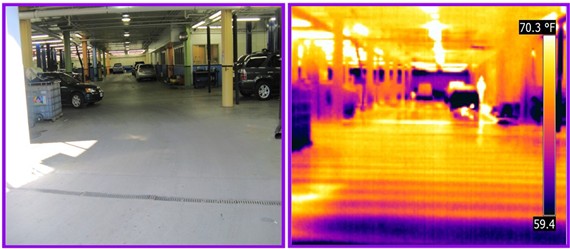 RESIDENTIAL RADIANT FLOOR HEATING SYSTEM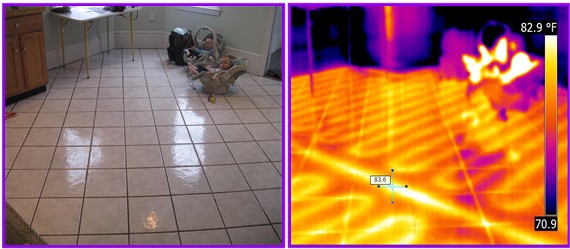 Radiant heating systems are installed in many floors and ceilings of homes and businesses throughout Massachusetts. The continuous hot water supply pipes for these type of systems are not visible to the eye and are unable to be monitored (on a continuing basis) in order to ensure that the piping is always functioning properly and continues to remain leak-free. Something as important as (concealed) radiant heat piping should always be monitored on an annual basis. An unknown radiant heating system leak can waste energy and cause major property damage if not repaired in a timely manner. Locating the exact location of a leaking hot water pipe (which is buried under a concrete slab) can be quite time consuming and very costly. It can take quite the physical process of tearing up or breaking up big areas of the flooring in order to locate the exact location of a leaking hot water supply pipe. If the location of an embedded leaking pipe is not found quickly and accurately, floors can often end up becoming excessively settled, displaced and severely damaged and very costly to repair. I'm finding that many of the older style steel and copper floor pipes (30 years or more) are now failing and causing serious damage to residential structures without anyone even knowing about this concealed defect until the moisture issue becomes quite obvious or until I show up with my infrared camera.

THIS RADIANT FLOOR HEAT SYSTEM LOOKS FINE VISUALLY BUT INFRARED DETECTS LEAKING EMBEDDED PIPING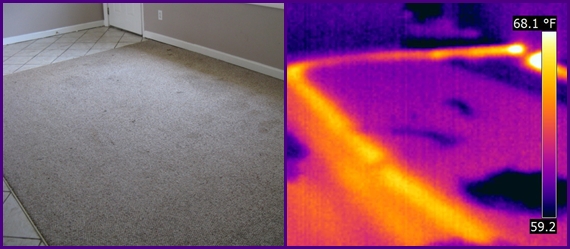 THIS RADIANT HEAT SYSTEM LOOKS FINE BUT INFRARED DETECTS LEAKING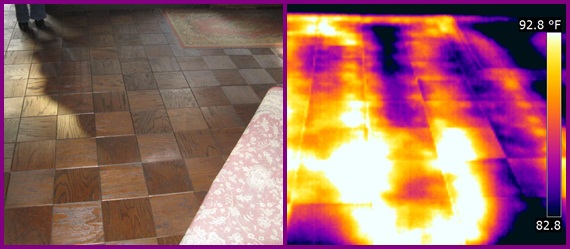 I will always have a convenient and very simple solution for locating and monitoring all those hidden radiant heating pipes. My infrared (thermal imaging) camera detects differentiating thermal patterns of buried heating pipes which enables me to pinpoint the exact piping locations and monitor these pipes for concealed leaks under any floor or ceiling material. My infrared imaging camera is so sensitive that I'm able to map out an entire radiant heat system (no matter what size it is) revealing where all the supply tubing is situated within your floor or ceiling surface. Not only am I able to locate the piping itself, but I'm also able to detect the temperature of the tubing, and locate any hidden leaks that may have gone undetected.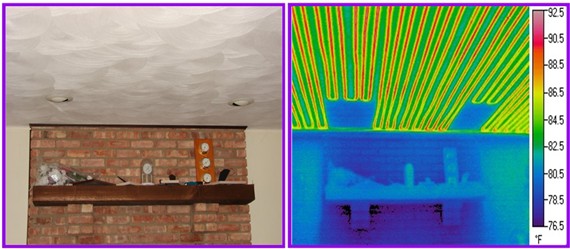 If you plan on renovating or remodeling on top of or in proximity of a radiant heating system, I highly recommend having your radiant piping completely examined and have all the buried pipes clearly marked out before you undertake any construction work. Without knowing where those radiant pipes are located, construction around a radiant area could become very expensive if one of those pipes all of the sudden becomes punctured.
I've had many radiant heating inspections where I've detected irregular patterns in the embedded radiant lines with irregular spacing between the pipes themselves (See image below). These particular heating pipes were not properly secured in place while the initial contractors were pouring concrete over them. This caused them to be pushed out of position, permanently causing an oblique installation. It's always nice to know exactly where those radiant pipes are laid out and if they are all spaced out in a perfectly straight sequence. There are also instances where radiant heat coils can be close enough to many surfaces where you could end up driving a drill bit or other hardware right through one of those displaced pipes. That would cause you major down time and exorbitant expenses by having the radiant system shut down indefinitely and then paying contractors to utilize a jack hammer and destroy a good portion of the floor (or ceiling) in order to access and repair the leak. Thermaly scanning the radiant piping area beforehand would have alleviated the big mess in the first place if you hired a professional Thermographer (such as myself) to map out the entire radiant heating system for you.
MAPPING OUT EMBEDDED RADIANT PIPING

NOTE THE IRREGULAR PATTERNS IN THIS RADIANT FLOOR PIPING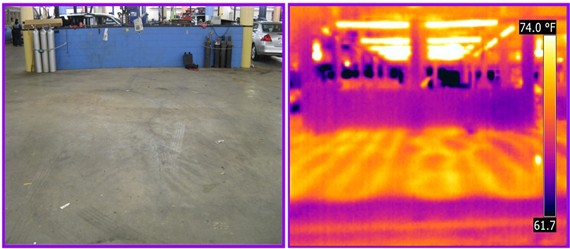 THIS IR SCAN HAD TO BE EXACT. A COMMERCIAL VEHICLE LIFT WILL BE INSTALLED HERE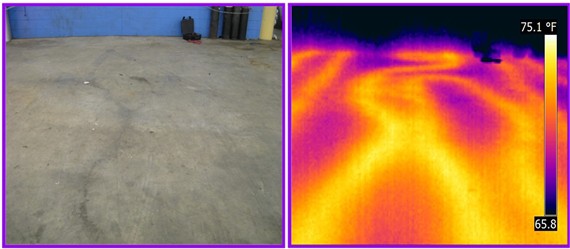 RADIANT PIPE LOCATIONS ARE BEING MARKED OUT WITH PRECISION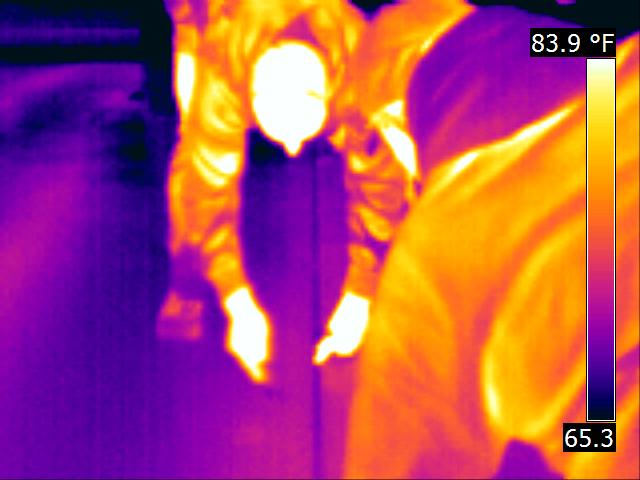 INFRARED MADE IT POSSIBLE TO INSTALL TWO COMMERCIAL VEHICLE LIFTS WITHOUT DAMAGING THE EMBEDDED HEAT PIPING BELOW IT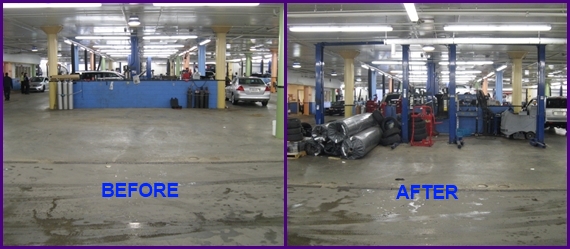 THIS RADIANT HEAT PIPING WAS INSTALLED IN A NICE EVEN OCTAGON SHAPE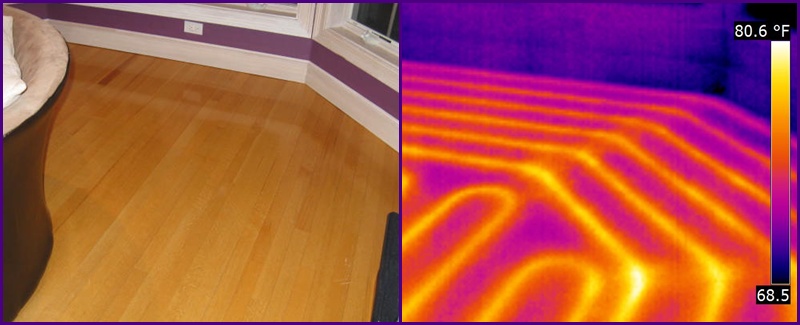 INFRARED EASILY DETECTS RADIANT PIPING THROUGH A MARBLE FLOOR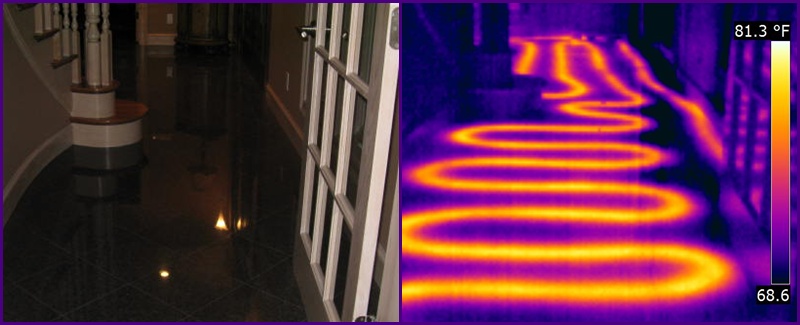 THIS OVAL CARPET DOES NOT DISTORT THE DETECTION OF RADIANT PIPING THAT IS INSTALLED UNDERNEATH THIS FLOOR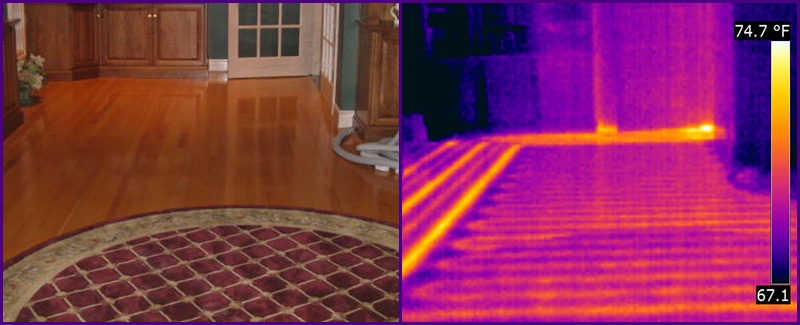 INFRARED AT WORK - DETECTING AND MARKING OUT EMBEDDED RADIANT PIPING FOR A BASEMENT PERIMETER WATERPROOFING INSTALLATION